LONG ISLAND HOME AUDIO INSTALLATION
Music Matters
At our core we are a company that understands music and how it enhances our lives. Whether when we are home alone or gathering with thousands at a local music venue, music moves us, inspires us and comforts us like nothing else. Our home audio installation in your Long Island home will keep you moving or can completely relax you, it is completely up to you and simply controlled. The best part is with our Sonos solutions we can accomplish every listening environment you can imagine. We also offer KEF wireless audiophile speakers that eliminate the need to buy other components which saves you money. Below you can learn about having a detailed 2 channel hi-fi listening room, whole house audio (multi room audio) , home theater surround sound, outdoor speakers or even ask us about personal listening with a great pair of headphones. Our team knows audio because of our musical background, some of us have been playing instruments for over 40 years. If your serious about sound we will not disappoint even the most discerning ears with B&W speakers. Please refer to our home theater and speaker receiver here for more info.
SONOS, THE SMARTER HOME SOUND SYSTEM
With a Sonos Home Audio Sound System you can easily bring every room together with incredible sound. The system allows you to play your favorite streaming services and playlists, all from a very easy to use app. If you have not heard Sonos, you haven't heard home audio.
In ceiling speakers should be heard, not seen-
It is easy to be overwhelmed, especially with all the different audio systems and features available. We are genuinely here to help you through all the noise and see which sound solution is best for you. This page will help you understand the basics of home audio and stereo systems and then we can go into more detail on-site or through an audio | video conference if you prefer.
Headphones come in so many different varieties including, in-ear, on-ear and over-ear. They can be connected via blue-tooth to your devices like phones or televisions or even their own amplifiers. They can also have built in features that can control a playlist or the volume. These are great for watching TV in bed while your significant other can rest undisturbed.
Hi-Fi Stereo or 2 channel set-ups are usually on the higher end of the spectrum for more discerning and dedicated listeners. Systems are generally comprised of 2 high-end speakers with massive amplifiers and extremely well crafted music sources that may include a turntable. These systems are for dedicated critical listeners.
Surround sound can be the most confusing of all the home sound systems with technical terms like, Dolby, Atmos, 5.1, 7.2.2, DTS and so many other acronyms. We are here to help you have a general understanding and ultimately give you an amazing listening experience in your home theater or media room within your budget.
Multi-room audio and whole house audio are both the same and it refers to having music play throughout your entire home, including outside. Sonos is the system of choice because of its flexibility, simple to use app and the ability to expand into other spaces over time. It is also affordable giving great sound anywhere in your home.
WHAT ABOUT

SPEAKER OPTIONS?
Ok, now that you know which type home audio system installation you are looking for, you are ready for the next step, speaker selection. There are probably more options than you were aware of and there is probably a new one that has arrived on the scene since we wrote this but lets go over the basics which include, in-ceiling, in-wall, book shelf, floor standing, sound-bars and even invisible speakers.
In-Wall and In-Ceiling speakers are probably the most popular especially when building a new home or discussing whole home audio. Keep in mind wires are run behind the sheetrock and the speaker should disappear within the landscape and design of your home. As we mentioned above, they should be heard, not seen. In-ceiling speakers are great for every room in the house and come in different sound quality choices, you would probably want the best quality in the kitchen or living room while going with a more budget minded speaker in spaces you do not spend a lot of time in, or just want some background sound. In-wall speakers are usually installed in home theaters and media rooms for better "directional" sound.
BOOK SHELF &
FLOOR STANDING
"Box speakers" as they are often referred to have definitely become less popular over the years but their sound is truly unmatched. These are the only speakers acceptable for high-end listening because of the way they are manufactured and calibrated, it is extremely difficult to get audiophile sound from an in-ceiling or in-wall speaker. The downside is the amount of space they take up and an absolute nightmare for interior designers. Bookshelf speakers are just a smaller version of floor standing and great for office spaces and bedrooms where you want amazing sound and have the space to keep them. Floors standing are the pinnacle of home audio hi-fi, handling a lot more power and dispersing a larger range of the frequencies we are able to hear. These speakers will have you listening to your favorite music like you are hearing it for the first time. Learn more about KEF box speakers.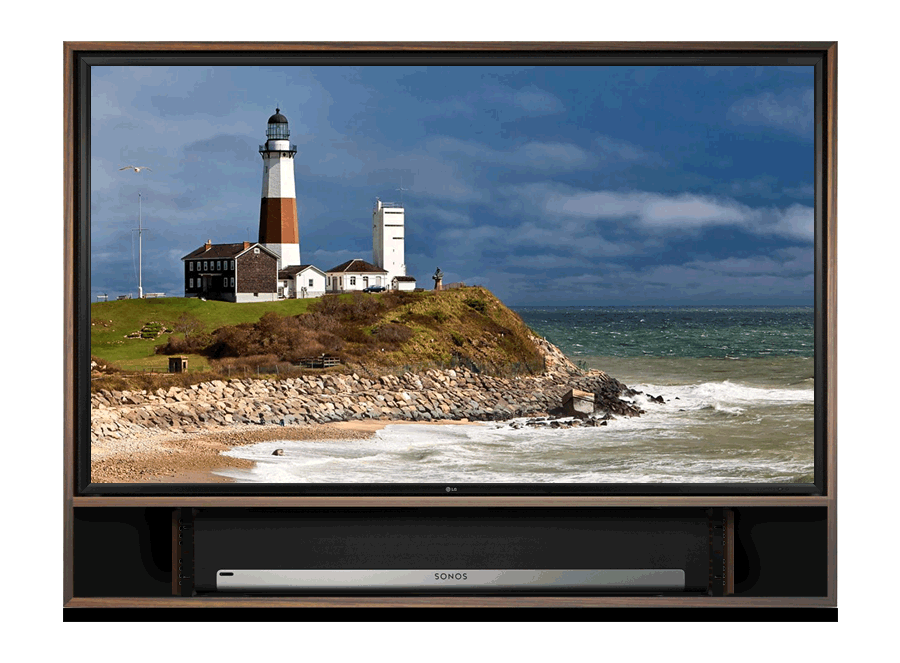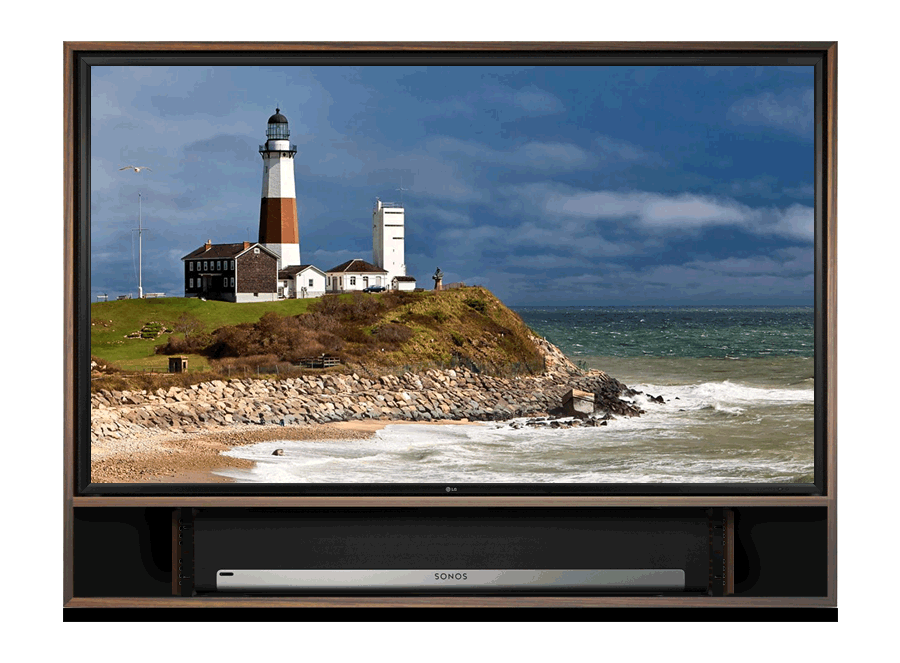 Sound-bar speaker installations are as common as a mounting a TV. Televisions have grown in size tremendously but because of their thin dimensions it is impossible to get great sound from the tiny speakers manufactures have to use. Thanks to companies like Sonos and Leon speakers we can offer the big picture with big sound in minimal spaces. Sound-bars can also be hidden under or over the tv with custom finishes and covers to please any interior designer or critical eyes. You can also add other speakers and subwoofers to expand the solution, adding a surround sound experience virtually to any room. We do not recommend these for dedicated home theater rooms but they can really make the difference when you want to be immersed in your favorite TV show or movies. They can also be added to your whole home audio system.
As we discussed earlier surround sound can be extremely overwhelming, however with todays sound engineers and top movie producers it is necessary. The goal is to have a life like experience in the comfort of your own home. A true surround sound system has multiple in-wall speakers, in-ceiling speakers (atmos) a center channel and subwoofer. The center channel disperses 80% of the audio content which is what you see on the screen, the surrounding speakers and in ceiling speakers give audible signals coming from different areas of the scene, like foot steps coming from behind or aircraft flying over head, you get the picture. The subwoofer is non directional but gives your the life like low end of explosions and deep vibrations that amaze. When a surround sound system is installed and calibrated correctly your hair will stand on end just from the audio experience alone. We offer complete Long Island Home Theaters as well.
Surround-Sound-Long-Island-Installers
For the ultimate in interior design, invisible speakers are the clear choice. There are several reputable manufacturers that have just about perfected the experience of great sound without being visually obtrusive. They are not going to give you the incredible sound capable of floor standing speakers but they will definitely surprise any hi-fi listener. These speakers must be planned before the sheet-rock goes up and come in many different sizes depending on the room and application. We also have invisible subwoofers to match. You will never be able to tell where they are but you will surely know they exist when you turn on your favorite playlist.
Smarter Home Solutions of Suffolk County Long Island provides Home Audio Installations in and around the following cities:
Amagansett
Amityville
Aquebogue
Babylon
Belle Terre
Bridgehampton
Brightwaters
Centerport
Cold Spring Harbor
Cutchogue
East Hampton
East Marion
East Moriches
East Northport
East Quogue
East Quogue
East Setauket
Eastport
Fishers Island
Great River
Greenlawn
Greenport
Hampton Bays
Huntington
Huntington Station
Jamesport
Kings Park
Laurel
Manorville
Mattituck
Melville
Miller Place
Montauk
Moriches
Nesconset
New Suffolk
Northport
Oakdale
Ocean Beach
Orient
Peconic
Port Jefferson
Quogue
Remsenburg
Sag Harbor
Sagaponack
Saint James
Shelter Island
Shelter Island Heights
Smithtown
South Jamesport
Southampton
Southold
Stony Brook
Upton
Wading River
Wainscott
Water Mill
Westhampton
Westhampton Beach